Posted: Saturday, March 18, 2017 3:04 PM
---

1984 Chris Craft Stinger 312
| | |
| --- | --- |
| HIN : CCBAG270M848 | Price : $8,950 |
| | | | | |
| --- | --- | --- | --- | --- |
| Type : Power | Category : High Performance | Hull : Fiberglass/Comp | Length : 32' | Beam : 8' |
| | | |
| --- | --- | --- |
| I/O : TWIN I/O | Engine : 2X330 Mercruiser | HP : 660 |
1984 Chris Craft Stinger 312
CarsBikesBoats.com
265 Bel Air Ranch Road, Round Mountain, TX 78663
CALL Hans DeRocher! 512-301-3659 or 830-825-3250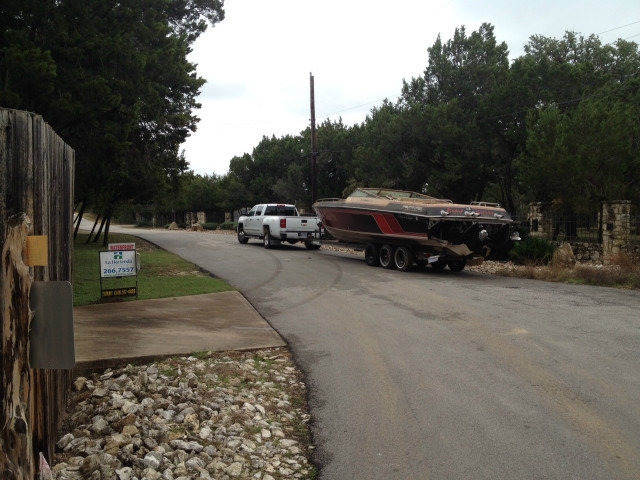 1984 Chris Craft Stinger 312 with twin 330 Mercruisers and TRS drives, while maybe not the fastest power package, it is definitely a bulletproof combination and amazingly fuel efficient. I traded for this boat in about 1993. I enjoyed this boat on Lake Travis for several years until I sold it to a good friend of mine who used it very little over the last 20 or so years. he is in the process of moving off the lake so no longer had a place to store it, so it fell back into my hands. This is an awesome classic go fast boat that is very original and rock solid, but could use a little love, serviced, and cockpit upholstery, which I will give it if it is still here next spring, but my list of projects seems to grow faster than a stolen Viper, and I seem to get them done about as fast as a high mileage Yugo with 2 dead holes....... just to put things into perspective. Of all of the boats that I have owned over the years, this was always one of my all time favorites. The Chris Craft Stingers are some well built, beautiful boats with great lines, and 32' is a nice size, not too big and not too small. It is on a triple axle aluminum trailer that will get it where you need to go, but not win any beauty contests on the way. .
232C464E B45E0E89 68E328A368CC4C9C
• Location: Austin

• Post ID: 17607018 austin
Play it safe. Avoid Scammers.
As a precaution, email contact has been disabled in this category because of scam attempts. If this ad does not contain a working phone number, web address, or the poster has forced their email address into the ad, the chances of it being legitimate are very low.
Most of the time, transactions outside of your local area involving money orders, cashier checks, wire transfers or shipping (especially overseas shipping) are scams or frauds.
Report all scam attempts to abuse@backpage.com.